Transworld Schools offers a graduated curriculum that is designed to help improve your English language skills regardless of your previous language learning experience. All ESL courses are organized around your particular level of English comprehension and fluency and provide a comfortable and interactive environment which fosters growth and confidence in the areas of your English language needs. Moreover, our ESL program is designed with the highest academic standards in mind.
Please consult the three levels of language learning described below to see which is right for you.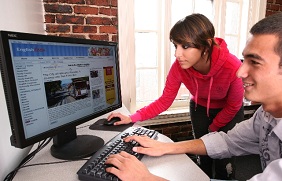 Foundation
A beginning learner at the Foundation Level has limited ability speaking, writing, reading or listening in English. The student will have trouble understanding fluent speech but can interact in a simple way provided the teacher speaks slowly and clearly and is prepared to help.
Intermediate
An Intermediate learner can understand and produce basic English language in all skill areas. The student will possess the grammar and vocabulary necessary to describe past experiences, to give opinions and to explain reasons for holding such opinions.
Proficiency
A Proficient learner can understand and produce English language with the fluency of a non-native speaker. The student is able to comprehend and demonstrate more complex forms of structure and meaning, and can discuss ideas in both concrete and abstract terms.