Where will I stay?
We want you to be safe, comfortable and happy throughout your stay in San Francisco and have the opportunity to meet Americans and other international students. You can choose either host family accommodation or student residence, and all are within walking distance or easily accessible by local transportation.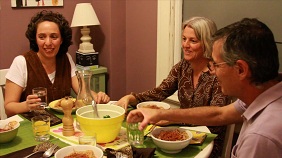 Host Family
Living with an American host family is the best way to be completely immersed in English language and the local culture. You will enjoy the comforts of a home and build a lasting relationship with your second family. Continental breakfast and dinner is included. Commute time is not more than 45 minutes each way; commute cost is not included.
Host family prices range from $600 to $1200 per 4 weeks depending on whether the room is shared or private, with or without food. We will book the host family for you according to your specifications. There is a $150 host family booking fee.
Student Residences
Transworld recommends residences that cater to international students. Every room in our preferred residences is equipped with a television, phone, desk, free Internet access and maid service. You can choose a shared or private room with shared or private bath. Most residences provide breakfast, and students may have access to the kitchen.
Student residence prices range from $650 (shared room/shared bath) to $1200 (private room/private bath) ($1580 private room/private both, 2 meals per day) per 4 weeks. You may book yourself by contacting the Residence directly or we can book for you. If we book for you, there is a $150 booking fee.
---
Transworld Recommended Residences
The Vantaggio Suites
761 Post Street
San Francisco CA 94109
(415) 614-2400
www.vantaggiosuites.com
580 O'Farrell Street
San Francisco CA 94109
(415) 614-2400
835 Turk Street
San Francisco
CA 94109
(415) 614-2400
---
Transportation
Transworld Schools is located on the corner of Sutter Street and Taylor Street in downtown San Francisco. Public parking is available on Taylor and Sutter, close to the school. The BART/MUNI station is at Powell Street. San Francisco International Airport arrivals should take the shuttle from the upper departure level to the hotel.